Review: Legends 2 Legend Concert feat. Big Daddy Kane, Sugarhill Gang, Chubb Rock, more
March 27, 2021
117

5 minutes read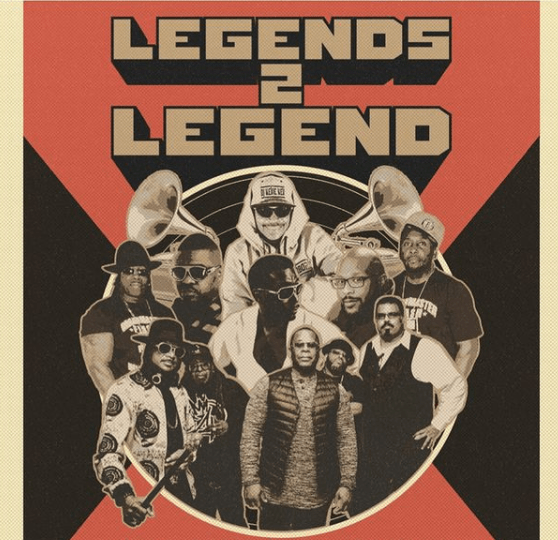 Long Island, N.Y. was rocking last night at the Legends 2 Legend concert, which was also livestreamed through YourShow.Live. Presented by Sexy Wings Sports Bar, the superb event included performances by hip-hop icons Big Daddy Kane, The Sugarhill Gang, Chubb Rock, and Greg Nice, with hosts Scorpio and Barshon of the Furious Five. DJ Kevie Kev Rockwell kept the vibes going between sets, filling the Plainview event space with hip-hop hits across decades.
Greg Nice of Nice & Smooth fame was up first, and thrilled the crowd and viewers at home with the skill and diversity of his beatboxing. Nice & Smooth (with emcee Smooth B) celebrated their 30th anniversary two years ago, but Greg Nice brought the same energy and love for the artform as in 1989.
Though the live audience was socially-distanced, everyone was brought to their feet when Chubb Rock hit the stage. The Jamaica native performed his hits "Treat 'Em Right" and "Just the Two of Us," as well as reggae classics such as Dawn Penn's "No, No, No." The party was in full swing at this point, with the audience dancing and enjoying a phenomenal buffet of Italian cuisine. Guests in attendance included actor Joseph Donofrio, UNK NBA founder Dave Huie, and photographer and talent manager Carl "Blaksmif" Smith.
The incomparable Sugarhill Gang brought the hits with "Rapper's Delight," "8th Wonder," and other crowd favorites. Members Wonder Mike, Master Gee, and Hen Dogg are a must-see live– engaging the audience with high energy, the "Apache" dance, and call-and-responses. "Rapper's Delight" was released over 40 years ago, but remains a party anthem even today. The reason, according to Master Gee, is simple. "It's a legitimately good record," he said in an exclusive interview. "The music is right, the performances are right, everything about it is just right." The group is still active after 60 years in the business, and recently released the single "Someone Like You" featuring Grandmaster Melle Mel and The Furious Five.
Closing out the show was Big Daddy Kane, accompanied by talented Brooklyn dancer Bboy Tata. Kane whipped the audience into a frenzy with the timeless singles "Smooth Operator," "Ain't No Half-Steppin,'" and "I Get the Job Done"– complete with choreography, splits, and crowd engagement. Bboy Tata demonstrated impressive breakdancing moves as well as some hypeman work, putting a cape and wide-brim fedora on Kane as he completed his set. The showmanship from Big Daddy Kane made it clear that he still has it, and the women in the audience were enthralled with him from his entrance to the mic drop. Kane also brought Scorpio on stage to congratulate the Furious Five for their Lifetime Achievement Award Grammy win. "The only problem I [have] with it, is that it's long overdue," Big Daddy Kane said.
Expect more events from Sexy Wings Sports Bar and YourShow.Live soon, starting with Saturday night's "The Art of Comedy." Hosted by Boogie Black and DJ Kevie Kev Rockwell, the show features comedians Drew Fraser, Cookie Hull, Kenney Woo, Tish Hines, Tommy Too Smoov, Brooklyn Mike, Smokey Suarez, and Barry Black. While the show is sold out, it is still available for livestreaming. For more information and tickets, visit YourShow.Live.