Uplift your dish with Mr. Bing Chili Crisp
December 14, 2022

7 minutes read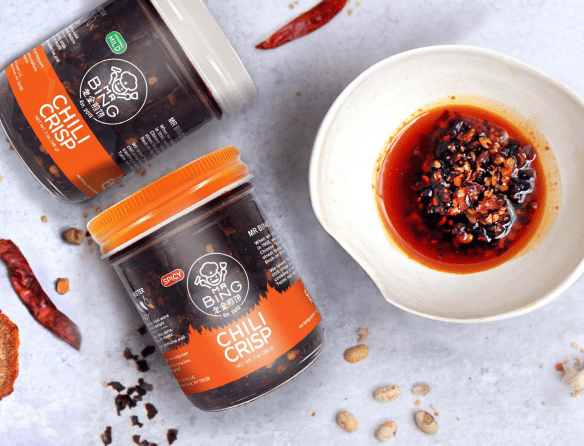 Fellow condiment lovers, rejoice! A savory, versatile, synergistic topping is just a grocery store or online order away. Mr. Bing's Chili Crisp is a flavorful mix of crunchy garlic and onions, chilis, mushroom powder, spices, and non-GMO oil. The result is a slightly sweet, not-too-spicy relish that is a zesty complement as a topping or recipe ingredient. We tried Mr. Bing's Chili Crisp at Philadelphia's Natural Products Expo East in October, and have since used the dressing on pizza, salmon, omelets, and pasta. The possibilities are endless! Read on for our exclusive interview with Mr. Bing co-founder Benjamin Duvall, and for more recipe inspiration, visit Mr-Bing.com.
LIFE ENTERTAINMENT: What attracted the cofounders to Chinese culture?
BENJAMIN DUVALL: Food! We met in the late 90s in Beijing, and fell in love with a street food called jianbing (or "bing"), which inspired us to start a street food business in Hong Kong in 2012. But as important as food is, our love of Chinese culture is deeper. After spending 15 years living in Kunming, Beijing, Shanghai, and Hong Kong, and with East Asian partners and children, Chinese and East Asian cultures are an inseparable part of our lives. This goes for the business as well, whose owners include Chinese diaspora investors from Shanghai, Hong Kong, Singapore, Malaysia, Canada, and the U.S.
L.E.: Did the Mr. Bing's Chili Crisp recipe change from using rice bran to soy nuts? Why the switch?
BD: The original recipe used soy nuts, which we switched to rice bran to be more accessible to customers with allergies– the same reason we don't use sesame or peanuts. One little known fact: The soy nuts or rice bran is not responsible for that characteristic "crunch" that Mr. Bing is known for. That texture actually mostly comes from the onions and garlic. The rice bran is used to contribute to the consistency, but doesn't impact the flavor or texture of the sauce, which aside from onions and garlic, is also created by four peppers of different heat, depth, and sweetness, as well as two types of powdered mushrooms.
L.E.: What is an example of how the Chili Crisp can be incorporated into classic holiday dishes?
B.D.: Chili Crisp is a uniquely versatile sauce for two reasons: Firstly, it has a powerful umami quality which amplifies the flavor of whatever food it's being cooking with or topped with (making it an ideal finishing sauce), and secondly, it's not rip-your-face-off spicy, so it doesn't overpower or make the holiday meal exclusive to hot heads. It's this versatility, plus the crunch, that makes Chili Crisp so popular with chefs and home cooks, who love it for holiday dishes like mac and cheese, quiche, turkey gravy, lasagna, as a rub on fish and meats, and even in desserts like chocolate cake.
L.E.: What is some surprising feedback that you've heard from customers?
B.D.: One of the most unexpected things we've heard is that loads of kids love Chili Crisp, and not teenagers, but little kids. Our mild flavor is hugely popular among families, a different customer from people who go for the spicy version. One dad even puts it on his kid's ham and cheese sandwiches, and they won't eat it without the Chili Crisp. With a slight sweetness and saltiness, to kids it probably just tastes like a more flavorful and vastly superior ketchup.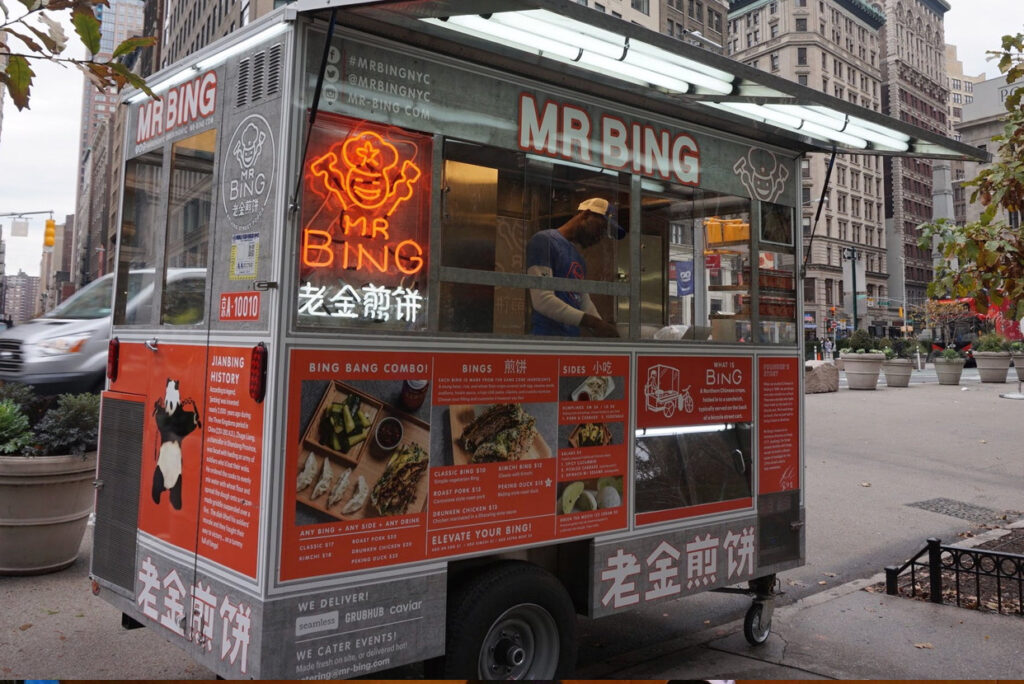 L.E.: Post-pandemic, are there plans to reopen street food locations or restaurant pop-ups?
B.D.: Yes, but more for marketing than a business. The great thing about launching the new street carts is that we won't have to worry about them making money, meaning we can use them to show people how Chili Crisp works on many types of foods, not just jianbing (which, don't worry, we still plan to have). So these won't be dedicated restaurant locations, but more like mobile carts at street food fairs and other cultural events.
L.E.: What's next for the brand?
B.D.: Mr. Bing ice cream! Just joking… although Chili Crisp on ice cream is mind-blowing, we're not trying to take over the world anytime soon. Our focus is to make the best tasting, crunchiest chili crisp anywhere, that works on almost everything, for an affordable price, free of allergens, and to ensure it's available in as many places as possible– whether grocery stores, universities, corporate food dining, sports stadiums, pizza shops, or wherever people are craving a crunchy punch of flavor to elevate their food.
---
Mr. Bing's Chili Crisp is available in Mild and Spicy varieties at Mr-Bing.com and in retailers nationwide. Follow Mr. Bing on social media @MrBingNYC.