CBS presents 'A GRAMMY SALUTE TO THE BEACH BOYS' feat. performances honoring the Recording Academy Lifetime Achievement Award recipients
March 20, 2023

8 minutes read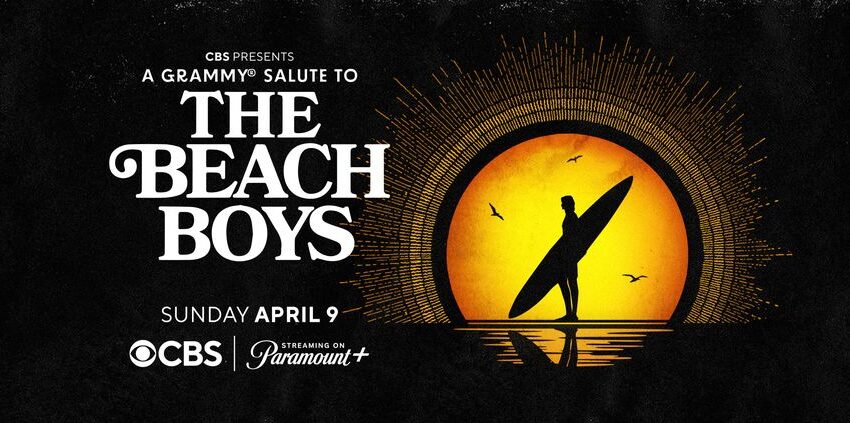 PRESENTERS AND SPECIAL APPEARANCES BY DREW CAREY, TOM HANKS, JIMMY JAM, ELTON JOHN, HARVEY MASON JR., BRUCE SPRINGSTEEN, AND JOHN STAMOS
SANTA MONICA, CALIF. (MARCH 14, 2023) — CBS and the Recording Academy® honor the legendary career of the Recording Academy Lifetime Achievement Award recipients, The Beach Boys on CBS PRESENTS "A GRAMMY SALUTE TO THE BEACH BOYS" Sun, April 9, 8 – 10 p.m. ET/PT, on the CBS Television Network, and will be available to stream live and on demand on Paramount+.* A one-hour version of the tribute will air on MTV at a future date to be announced.
The Beach Boys members Al Jardine, Bruce Johnston, Mike Love, David Marks, and Brian Wilson are featured guests as a star-studded lineup of contemporary musicians perform their greatest hits in the iconic Dolby Theater in Los Angeles. In addition to the musical performances, the special features appearances by Drew Carey, Tom Hanks, Jimmy Jam, Elton John, Harvey Mason Jr., Bruce Springsteen, and John Stamos.
The following is the list of performances included in the special:
 
"Darlin'" – Andy Grammer
"Sloop John B" – Beck
"Good Vibrations" – Beck, Jim James
"In My Room" – Brandi Carlile
"God Only Knows" – Brandi Carlile & John Legend
"Wouldn't It Be Nice" – Charlie Puth
"Do You Wanna Dance" – Fall Out Boy
"Do It Again" – Foster The People
"Barbara Ann" – Hanson
"The Warmth of the Sun" – Norah Jones
"Surfer Girl" – Lady A
"Sail on Sailor" – John Legend
"Help Me Rhonda" – Little Big Town
"Surfin' USA / Fun Fun Fun" – Luke Spiller & Taylor Momsen
"Don't Worry Baby" – Michael McDonald & Take 6
"I Know There's an Answer" – Mumford & Sons
"I Get Around" – My Morning Jacket
"Heroes and Villains" – Pentatonix
"Caroline No" – LeAnn Rimes
"You Still Believe in Me" – St. Vincent
"California Girls" – Weezer
The special airs during the year-long celebration of The Beach Boys 60th anniversary. The Beach Boys are one of the most critically acclaimed and commercially successful bands of all time. With over 100 million records sold worldwide and recipients of the Recording Academy Lifetime Achievement Award, The Beach Boys music has been an indelible part of American history for more than six decades. Founded in Hawthorne, California in 1961, The Beach Boys were originally comprised of the three teenaged Wilson brothers: Brian, Carl and Dennis, their cousin Mike Love, and school friend Al Jardine. Their music came to represent Californian culture and provide fans around the world with a passport to experience love, youthful exuberance and surf culture. For more information on The Beach Boys, visit thebeachboys.com.
ABOUT CBS PRESENTS "A GRAMMY SALUTE TO THE BEACH BOYS"
CBS PRESENTS "A GRAMMY® SALUTE TO THE BEACH BOYS" is produced by Tenth Planet Productions. Joel Gallen, Rick Krim and Irving Azoff serve as executive producers and Rick Austin as co-executive producer. Gallen also directed the special.
For more information visit Paramount Press Express and follow CBS on Facebook, Twitter and Instagram. 
*Paramount+ Premium subscribers will have access to stream live via the live feed of their local CBS affiliate on the service as well as on-demand. Essential tier subscribers will have access to the on-demand the following day after the episode airs.
ABOUT THE RECORDING ACADEMY
The Recording Academy represents the voices of performers, songwriters, producers, engineers, and all music professionals. Dedicated to ensuring the recording arts remain a thriving part of our shared cultural heritage, the Academy honors music's history while investing in its future through the GRAMMY Museum®, advocates on behalf of music creators, supports music people in times of need through MusiCares®, and celebrates artistic excellence through the GRAMMY Awards® — music's only peer-recognized accolade and highest achievement. As the world's leading society of music professionals, we work year-round to foster a more inspiring world for creators.
 
For more information about the Academy, please visit www.grammy.com. For breaking news and exclusive content, follow @RecordingAcad on Twitter, "like" Recording Academy on Facebook, and join the Recording Academy's social communities on Instagram, YouTube, TikTok, and LinkedIn.