JOE'S PUB PRESENTS 'RYAN RAFTERY: THE TRIAL OF ANDY WARHOL' OPENING THIS SUNDAY, FEBRUARY 20 – MARCH 12
February 19, 2022
127

9 minutes read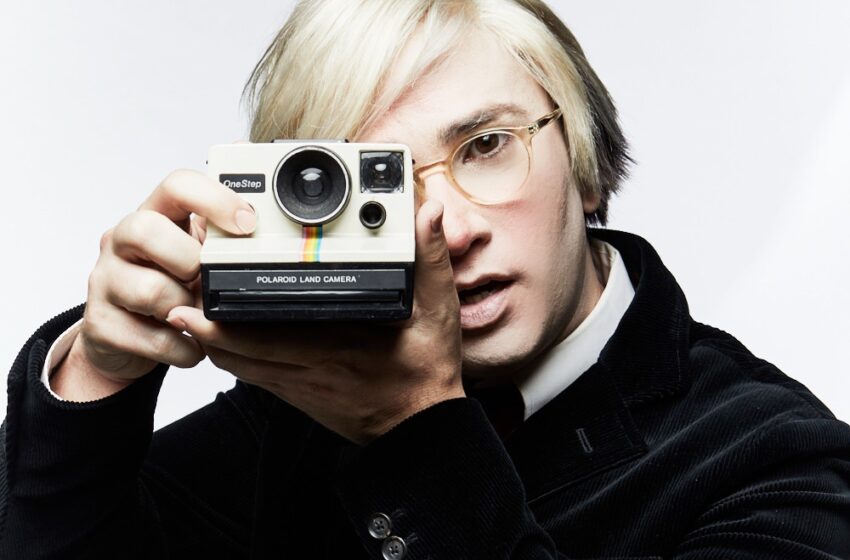 ACCLAIMED PERFORMER OF ANNA WINTOUR, MARTHA STEWART AND CALVIN KLEIN MUSICALS DEBUTS NEW BIOMUSICAL SATIRE, WHERE THE FAMED ARTIST IS ON TRIAL IN THE AFTERLIFE FOR LAYING THE FOUNDATION FOR SOCIAL MEDIA CULTURE
(New York, NY) – Friday, February 18th, 2022 – Everyone wants to be famous. It's his fault. Ryan Raftery returns to Joe's Pub for his sixth consecutive run, premiering his new celebrity biomusical comedy THE TRIAL OF ANDY WARHOL. Inspired by the classic film "It's A Wonderful Life," Raftery's latest piece is an irreverent social commentary on modern society as we all feverishly chase our very own "fifteen minutes of fame."
RYAN RAFTERY: THE TRIAL OF ANDY WARHOL opens Sunday, February 20, and runs on varying dates through Saturday, March 12. Tickets and more details are available online, over the phone (212-967-7555) and in-person at The Public Theater's box office (425 Lafayette, NYC).
Raftery, called "a one-man musical juggernaut" by the New York Daily News, tells a tale that finds the most famous artist of the 20th century dead and on trial in the afterlife for his patented brand of celebrity worship that has influenced everything from Instagram to TMZ, from Jeff Koons to the Real Housewives. The prosecution calls several witnesses to the stand, including the ill-fated Edie Sedgewick (Suzy Jane Hunt) and former friend and collaborator Jean-Michel Basquiat (Devin Snow). The cast is rounded out with Warhol's longtime friend Brigid Berlin (Jess Watkins) and a stern prosecutor (Miranda Noelle Wilson), determined to see Warhol convicted with a truly worse-than-death penalty inflicted upon him.
"We live in a society where everyone wants to be famous," says Raftery. "Being known by strangers and amassing clicks and likes is the New American Dream and once you start paying attention, you see Andy's touch is absolutely everywhere in modern society. From sharing pictures of your avocado toast at breakfast on your Instagram feed to the election of a television personality to President of the United States, there is no denying that Andy Warhol's cultural impact has only gotten stronger in the years since his death."
The stageplay and parody lyrics are written by Raftery, set to songs by artists as varied as Lady Gaga. Andrew Lloyd-Webber, Whitney Houston and Billy Joel. Story by Ryan Raftery & Jay Turton. Stage direction is by Jay Turton, musical direction by James Rushin , and wig design by Isaac Davidson.
Ryan Raftery has appeared on television in Ugly Betty, What I Like About You, Malcolm in the Middle and, most memorably, on Law and Order: SVU, where he warmed hearts all across America as Dennis Faber, the lovable Amish teenager with measles. He has written 10 shows, including the solo shows "Ryan Raftery & Friends: A Solo Act" and "Ryan Raftery's It Gets Worse." His celebrity bio-musicals based on the lives of Anna Wintour, Andy Cohen, Martha Stewart, Calvin Klein and Ivanka Trump have sold out from coast to coast and have garnered praise in The New York Times, The Wall Street Journal, People Magazine and many others.
TICKETS:
ONLINE at joespub.com / PHONE, 10AM-7:00PM, DAILY 212-967-7555
IN PERSON The Public Theater Box Office, 425 Lafayette Street, NYC (Opens daily at 2PM)
NOTE There is a $12 food / two (2) drink minimum per person per show, unless otherwise noted.
JOE'S PUB, a program of the Public Theater, was named for Public Theater founder Joseph Papp. Since it opened in 1998, Joe's Pub has played a vital role in The Public's mission of supporting young artists while providing established artists with an intimate space to perform and develop new work. Joe's Pub presents the best in live music and performance nightly, continuing its commitment to diversity, production values, community, and artistic freedom. The organization also offers opportunities like New York Voices, an artist commissioning program that helps musicians develop original live performance projects; Joe's Pub Working Group, an artist development initiative; The Vanguard Award & Residency, a yearlong series that celebrates the career of a prolific and influential artist and has honored Nona Hendryx, Judy Collins, and Laurie Anderson; and nationwide programming partnerships. Currently commissioned artists include Alicia Hall Moran, Daniel J. Watts, Haig Papazian, Samora Pinderhughes, Sunny Jain, and Yacine Boulares. Joe's Pub Working Group's 2021-2022 cohort includes Jaime Lozano, Kirsten Maxwell, Roopa Mahadevan, Salty Brine, and Sarah Elizabeth Charles. With its intimate atmosphere and superior acoustics, Joe's Pub presents artists from all over the world as part of The Public's programming downtown at its Astor Place home, hosting approximately 800 shows and serving over 100,000 audience members annually. New York Voices is supported in part by the National Endowment for the Arts.
THE PUBLIC continues the work of its visionary founder Joe Papp as a civic institution engaging, both on-stage and off, with some of the most important ideas and social issues of today. Conceived over 60 years ago as one of the nation's first nonprofit theaters, The Public has long operated on the principles that theater is an essential cultural force and that art and culture belong to everyone. Under the leadership of Artistic Director Oskar Eustis and Executive Director Patrick Willingham, The Public's wide breadth of programming includes an annual season of new work at its landmark home at Astor Place, Free Shakespeare in the Park at The Delacorte Theater in Central Park, the Mobile Unit touring throughout New York City's five boroughs, Public Forum, Under the Radar, Public Lab, Public Works, Public Shakespeare Initiative, and Joe's Pub. Since premiering HAIR in 1967, The Public continues to create the canon of American Theater and is currently represented on Broadway by the Tony Award-winning musical Hamilton by Lin-Manuel Miranda and Girl From the North Country. Their programs and productions can also be seen regionally across the country and around the world. The Public has received 59 Tony Awards, 184 Obie Awards, 55 Drama Desk Awards, 58 Lortel Awards, 34 Outer Critic Circle Awards, 13 New York Drama Critics' Circle Awards, 56 AUDELCO Awards, 6 Antonyo Awards, and 6 Pulitzer Prizes. publictheater.org
The Public Theater stands in honor of the first inhabitants and our ancestors. We acknowledge the land on which The Public and its theaters stand—the original homeland of the Lenape people. We acknowledge the painful history of genocide and forced removal from this territory. We honor the generations of stewards and we pay our respects to the many diverse indigenous peoples still connected to this land.