Grandmaster Melle Mel on trap music and 50th anniversary of hip hop: 'It's too much street and not enough music'
May 11, 2023

6 minutes read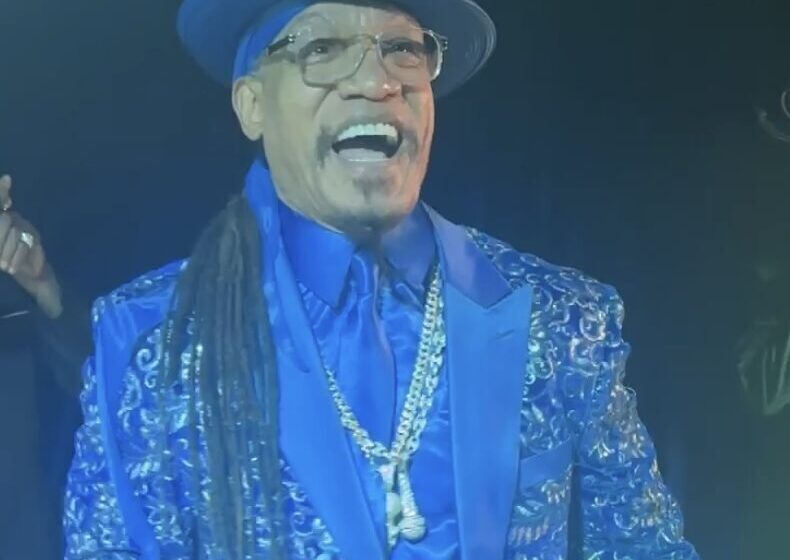 Hip-hop pioneer Grandmaster Melle Mel celebrated his 62nd birthday during a surprise party on May 7 at the Copacabana in NYC. Attending the celebration were fellow rap giants KRS-One and Whodini's Grandmaster Dee, UNK NBA founder Dave Huie, reggaeton artist Tano the Prophet, and other influencers. Melle Mel's influence on hip-hop is undeniable, and he has been honored consistently over the decades for his impact as an innovator and lead vocalist for Grandmaster Flash and the Furious Five. Their single, "The Message," is heralded as one of the greatest songs of all time by Rolling Stone, and is an early example of hip-hop's social consciousness. Now celebrating its 50th anniversary, hip-hop has evolved substantially since those burgeoning years, both as a genre and as a culture. According to Melle Mel, however, not all of the changes have been for the better.
"It's too much street and not enough music," he told Life Entertainment in an exclusive interview. "At the end of the day– look, you could do what you want. But if you got young guys going around killing each other, and if everybody's cool with it, I ain't cool with that because I know better.
Everybody's music is different. My music is different from my parents' music, but at the end of the day, they wasn't killing nobody and we weren't killing nobody either. Somebody has to take responsibility for that."
Melle Mel also professed that there is an agenda regarding the direction that hip-hop has taken over the years, and that there lacks a significant push-back to the destructive messaging in some songs. "It's somebody's plan, or somebody is guiding which way the music is going," he said. "After even 20 years, 25 years go by… Nobody ever said gangster rap wasn't right, or trap rap, or mumble rap, or even with this drill rap. Nobody ever said that that's not the right thing to do, and everybody's responsible."
Rather than censoring violent or derogatory lyrics entirely, Melle Mel asserted that the listening audience should be taken into consideration more often. "What about all the DJs that play all the music? Would you play that music in front of a kid? Should you play that music in front of a kid? My answer is no," he explained. "You should not play that music in front of a kid, just like we never listened to Redd Foxx. We never listened to that when we [were kids]. Our mother and father had us go to the room, and then they would listen to all the jokes amongst the adults. They don't do that with hip-hop. The radio station still plays it, and everybody still acts like there's nothing wrong."
Mel also had some choice words for female hip-hop artists, stating that whereas old school artists like Queen Latifah and MC Lyte had an "edge," now "you very rarely find a female that actually sounds like a female." He coupled this with the assertion that most female rappers are using male ghostwriters. "Now you got females with this dude mentality as far as hip-hop is concerned," Mel said.
The Rock and Roll Hall of Fame inductee also contrasted the Civil Rights Movement with a perceived lack of action against problems within the black community. "I've been saying since 15 years ago that black people did really well going up against the white people in the '60s and our movement with Martin Luther King," Melle Mel began. "We did really well from shielding ourselves from the white man, but we don't do nowhere near as well from shielding ourselves from black people that don't act right. That's the problem. All [whites] have to do now is just back up. The brothers are going to do it on their own. You ain't got to get a white man to kill somebody."
Mel cited the killing of Jordan Neely as an example of the differing response he perceives when a black person is killed by a white person. "The guy strangled a guy on the train… he should go to jail," he said. "But then you should speak out against all young black men killing young black men with the same energy that you do as that white man choking out that guy on the train. If [black people] did do that, our neighborhoods would be some of the best neighborhoods in the world."
Accountability, Mel insisted, is one way to shift hip-hop's emphasis from street life back to just having fun. "Hip-hop was our something to have, and we had a good time with it, and then people started making money off it," Mel said. "At the end of the day, after you're partying, sometimes you got to open your eyes and look at what's really going on. Now the 50th anniversary of hip-hop, okay, I love it. But I'm always thinking ahead of myself. What are we going to do for the 51st anniversary of hip-hop? Now my thing is to establish something that's going to last for another 50 years."
Upcoming appearances by Melle Mel include DJ Cassidy's "Pass the Mic Live!" at Radio City Music Hall on July 21, and Hip Hop 50 Live at Yankee Stadium on Aug. 11. He also launched a new YouTube podcast, "Grandmaster Melle Mel's Hip-Hop Corner." Follow Melle Mel on Instagram at @mellemelglover.