Interview: Artist and comedian Eileen Hickey
March 10, 2020
844

7 minutes read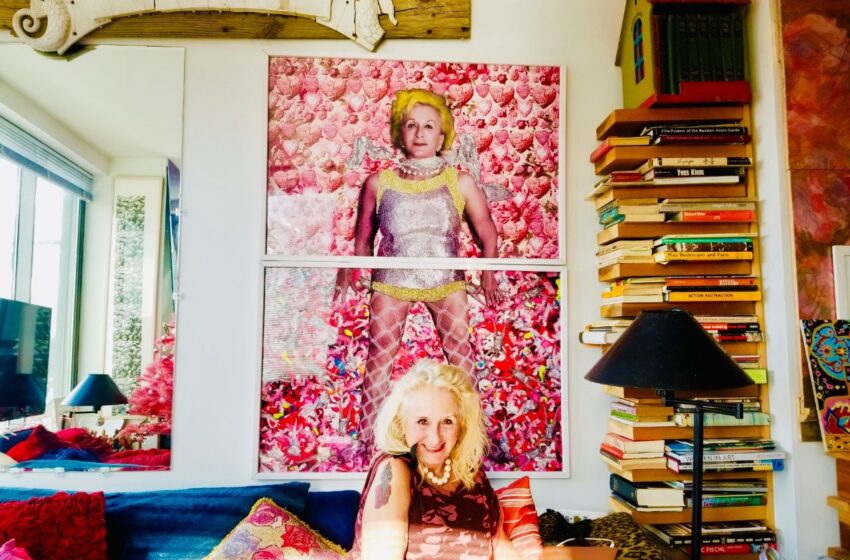 Effervescent artist Eileen Hickey has explored her love for painting for nearly her entire life, and discovered a love for comedy through none another than the late comedy great Richard Pryor. 
Immersed in art since childhood, Hickey often used makeup and seashells in her creations, and spent hours in the Albright-Knox Art Gallery in her hometown of Buffalo. "This collector [named] Seymour Knox was buying all the most fabulous artwork right as it was being made," she recalled. "He had a Jackson Pollock when Jackson Pollock was painting them, he had Mark Rothko. When I was in high school, I saw Robert Rauschenberg and Merce Cunningham perform 'Summerspace,' one of Merce's most famous works. I was very lucky." Determined to meet Pollock, Hickey moved to New York City when she was just 18 years old. Manhattan remains her home and a source of continual inspiration. "Paula Cooper Gallery is always showing something very cool," she told Life Entertainment. "There's artists like Barry Le Va. Anywhere I go, there's other artists, and it's wonderful to see what they're doing." 
Inspired by Pollock and others, Hickey's own work dances the line between representation and abstraction. "We came out of the Impressionists in the 19th century and then the Cubists, who were also looking to capture the different ways that we see things and the way things exist in the world," she explained. "It led up to the Abstractionists in the '50s, and my interest is, how far can you go? You take a rose… I think of fragility and power. How far can you abstract a rose before you lose the benefit of the association, of identifying it as that object?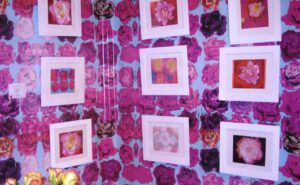 "The association with the rose– the beauty, the sense of openness, possibly female sexuality but also historical meaning, the Virgin Mary– if it becomes too abstract, you still have that power," Hickey continued. "What's that line? A lot of my work and a lot of the work I've done with flowers, with roses primarily, is exploring that boundary between, say, language and your senses, your intuition. I go back and forth."
Her diverse work covers her walls and has been displayed in galleries, magazines, movies, and art fairs for decades. "A painting can be like a jewel in your jewelry box that transforms you when you put it on, or it can be the wall in your living space or your office that transforms and organizes the entire space," she said. "I did a whole group of grid paintings, and I did them with eye shadow, lipstick, and nail polish. Then I started making grids of roses to say, 'We women are here too. Look at us.'
"When I was 18, my son was stolen from me. That's when I joined a group about birth mothers, and when the gun came into my paintings. I had just seen a picture of Ultra Violet (who was one of the Andy Warhol superstars) under a painting that Roy Lichtenstein had done called 'Bang!' I wanted to turn it around and point it at the people that I felt that I'd surrendered my child to on my knees with a gun pointed at my head. Because women, we're truly victimized and I have been victimized."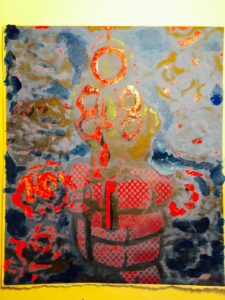 Other works reflect Hickey's Roman Catholic upbringing, with some autobiographical aspects. "I would use a holy card and make it me," she explained. "I'll make it my family. Those images that I was brought up with, they are so beautiful. They're realistic, and they also contain symbols of crosses, flowers, crowns, and crowns of thorns. All these things, I've been so happy to be able to use them in my art– these things from my childhood that were so important to me."  
Her interest in comedy came later in life, when she temped at HBO around 1978. "I worked for this great guy, and his job was to look at these 8-track tapes they'd send down from upstairs," Hickey recalled. "They sent us this tape of this guy named Richard Pryor. We ran in the viewing room and watched Richard Pryor's first HBO special. It changed my life… it changed everyone's life. Before Richard Pryor, it was one way, and after him, it was another way. It just amazed me."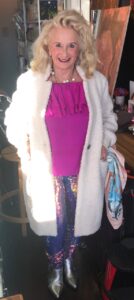 When Hickey went through an acrimonious divorce, she decided that she would learn how to talk about it in a funny way. "I took a class at Gotham [Comedy Club] and started writing comedy, and I love it. It's another voice, like art, where you can say things so people can hear them and you can make an impact with things that people find very difficult to talk about. Comedy is fantastic and I love it. I got my first paycheck last Saturday for $20 [laughs]. I'm moving up."
Hickey was a favorite on the Netflix reality series "Dating Around," and her fans can expect more appearances and comedy spots in the coming months. For updates and more information, visit EileenHickey.com, Instagram @EileenBangBang, or like Eileen Hickey on Facebook.